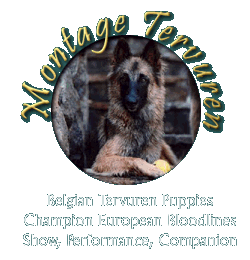 Montage is a small breeding program established in 1992, currently based in New York City. The focus at Montage is on breeding "the complete Belgian Tervuren" with the athletic structure, working drive and biddability to compete at the highest levels of performance sports, as well as the elegant, correct type to be breed champions, and the temperament to be devoted family companions. Montage is proud to be a designated AKC Breeder of Merit. Versatile Montage Belgians can be seen in many venues including agility, herding, competition obedience, tracking, therapy dog work, and search & rescue.

Montage Co-Bred Litters with Other Breeders & Fur Family

Belgians of any variety are incredibly versatile and trainable, with enormous enthusiasm and desire to please. Energetic, agile and highly intelligent, they are very alert by nature and can be quite mischievious. They require lots of attention and socializing as youngsters, with a need for structured activities and jobs to do in order to keep them out of trouble. They thrive on spending quality indoor time with their family. Their high energy level and need for jobs to do may not be appropriate for all family situations. Belgians are always happiest working and playing with human partners.

For more information about the Belgian Tervuren -- history, health problems, questions to ask breeders, and what to expect if you purchase a Tervuren -- visit the website of the American Belgian Tervuren Club.

Kathy Madden
Montage Tervuren
New York, NY USA
madterv@gmail.com


Photos appearing throughout this website are Copyrighted by Kathy Madden or other photographers.
No part of this website may be copied without express written permission.
Questions or concerns?
Email Kathy Madden, the Webmaster